There is NOTHING I love better than a daring breakaway smashing the odds and breaking the dreams of the sprint teams and that's EXACTLY what happened in Stage 18 of the Tour de France. It took all four of the breakaway riders to keep the fast men at bay but only one could win. That honour went to Soudal Quick-Step's Dane Kasper Asgreen. My moment of joy is for the quartet that dared and won.
Kasper Asgreen!! Breakaway makes it to the line! Oh hell yes. Amazing. #TDF2023 pic.twitter.com/KMLaTpdiI0

— Neal Rogers 🇺🇦 (@nealrogers) July 20, 2023
Former World hours record holder Victor Campenaerts (Lotto-Dstny), Tour of Flanders winner Kasper Asgreen and UNO-X powerhouse Jonas Abrahamsen rolled off the front when the flag dropped.
💪The race is underway and we already have a leading trio :

💪 La course est lancée et un trio d'attaquants s'est déjà formé :

🇳🇴 @AbraJonas
🇩🇰 @k_asgreen
🇧🇪 @VCampenaerts #TDF2023 pic.twitter.com/frBkqwAvPp

— Tour de France™ (@LeTour) July 20, 2023
It seemed a futile escapade as the peloton kept them almost within eyesight all day. That caused problems as the gap was bridgeable and riders wanted to bridge. After some overly aggressive tactics from Alpecin -Deceuninck's Jasper Philipsen,
Philipsen should be deducted 300 sprint points for that attempt at bullying #TDF2023 pic.twitter.com/OvkK0dXkBo

— John Maguire 🇺🇦 (@velo_bristol) July 20, 2023
Pascal Eenkhoorn finally joined teammate Victor and three became four.
Good to see that he wasn't scared by Philipsen. ALLEZ @PascalEenkhoorn , make him angry! #TDF2023 pic.twitter.com/6sCtWbprTG

— Mihai Simion (@faustocoppi60) July 20, 2023
The quartet rode with steely intent, all taking their turns, all putting in 100 percent and no faffing about. It didn't seem possible, but four rouleurs of this stature with a single goal in mind can achieve the impossible.
How much it hurts to hold off a Tour de France peloton 😫#TDF2023 #ITVCycling pic.twitter.com/59OGAzHUph

— ITV Cycling (@itvcycling) July 20, 2023
With 10km to go they had 20secs, at 4km it was slashed in half.
🇫🇷 #TDF2023

KEEP ON PUSHING GUYS! pic.twitter.com/fJcPFRwEtN

— Lotto Dstny (@lotto_dstny) July 20, 2023
They kept riding, they had no option if they wanted to have any chance. They may still have been caught if not for Victor Campenaerts pulling like a train in the final kilometre to set his teammate up, and the Quicksteppers running interference in the chasing group.
Just sit back and watch how close it was in the final kilometre
😱 The breakaway surprised the peloton and stayed ahead until the very last second. Relive the last KM ⤵️

😱 L'échappée a surpris le peloton et est restée en tête jusqu'à la dernière seconde. ⤵️#TDF2023 @Continental_fr pic.twitter.com/tnccWyIMSX

— Tour de France™ (@LeTour) July 20, 2023
To be honest we didn't speak at all. Everybody committed and I think there was an understanding between everybody that if this was to work out we couldn't look at each other we had to save everything, we had to put it all into it and if we did that we could get victory today – Kasper Asgreen
Who would have thought we'd have to wait until Stage 18 for the Wolfpack to take their first victory.
OK, I've held it all in until now because this moment of joy is for our quartet, but OMG it's another Danish win!!! I'm thrilled for Kasper who has had a tough battle to regain his top form this year. Look at that smile #DanishDynamite
𝐒𝐨𝐮𝐝𝐚𝐥 𝐐𝐮𝐢𝐜𝐤-𝐒𝐭𝐞𝐩'𝐬 𝟓𝟎𝐭𝐡 #𝐓𝐃𝐅𝟐𝟎𝟐𝟑 𝐬𝐭𝐚𝐠𝐞 𝐯𝐢𝐜𝐭𝐨𝐫𝐲 ✌️ pic.twitter.com/uxJLq2hTFo

— Soudal Quick-Step Pro Cycling Team (@soudalquickstep) July 20, 2023
Loved that he had words of praise for his breakaway companions today and dedicated his win to retiring teammate Dries Devenyns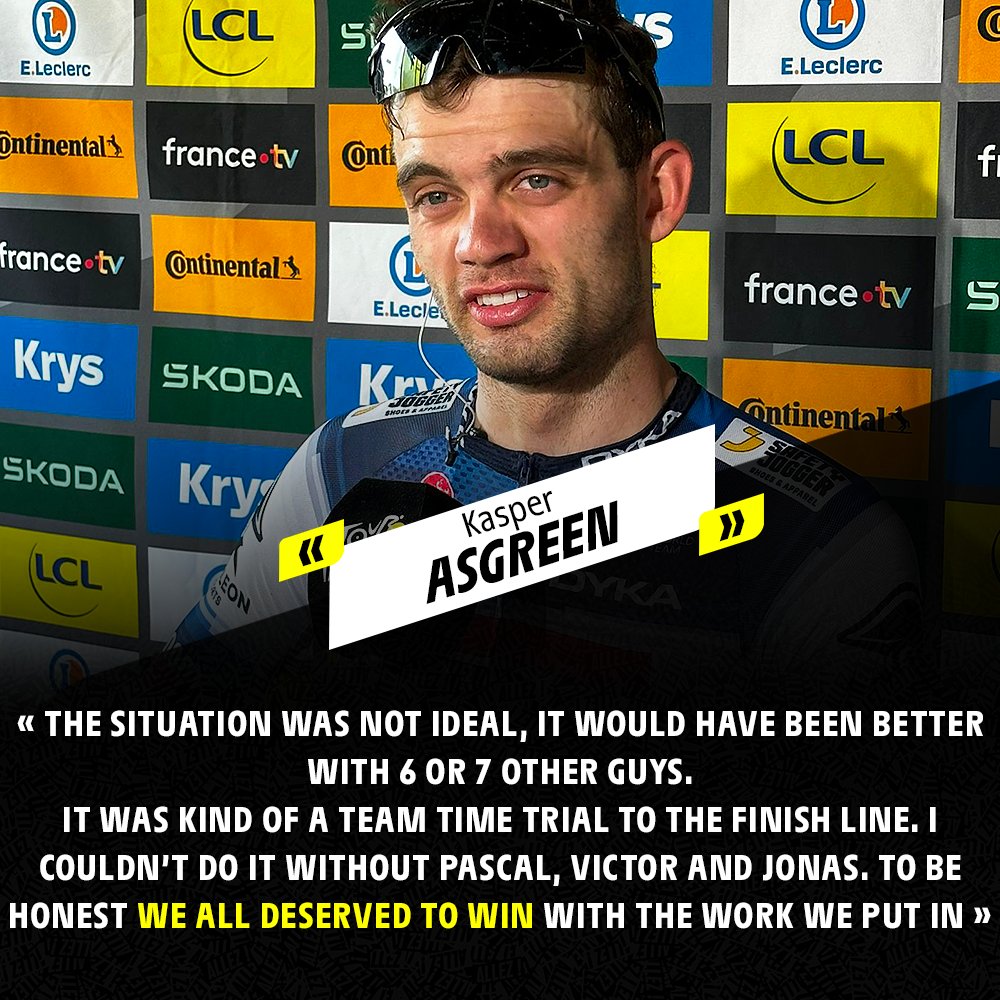 Uno-X have had a dream debut at the Tour and another podium with Jonas today just adds to their palmares. I'm still hoping they'll make the top step.
First reactions from @AbraJonas after his first ever @LeTour stage podium 🔥 pic.twitter.com/5eMBxNT8GR

— Uno-X Pro Cycling Team (@UnoXteam) July 20, 2023
The Lotto-Dstny duo played every card they had and came so close again.
🇫🇷 #TDF2023

What a ride guys!

A final huge pull by @VCampenaerts sees the breakaway hold off the bunch with @PascalEenkhoorn sprinting to 2nd! pic.twitter.com/Eqhr8ToCEk

— Lotto Dstny (@lotto_dstny) July 20, 2023
I admire the way Victor Campanearts rides, every pedal stroke a masterpiece of power and a master tactician. Definitely deserved the most combative rider award today. The way he raced to try and take fourth after that HUGE turn on the front made my heart sing.
I was the only rider caught by the peloton, but we were really going for Pascal in the sprint. It's bittersweet, but also in that there's a sweet part.
I leave you with this from GCN's Adam Blyth on the Moto – enjoy.
Adam really is living his best life on that motorbike 🍦@AdamBlythe89 | #TDF2023 pic.twitter.com/GUDFC3bx6v

— Eurosport (@eurosport) July 20, 2023
Stage Results
🤩 A stage promised to sprinters? Maybe on paper, but the break has had success this Tour, so why not make it another breakaway win… The quartet resisted the encroaching sprinters and @k_asgreen scored his first Tour win.

🎬 Stage 18 🇬🇧 highlights of the #TDF2023 pic.twitter.com/fnu8A3gaAg

— Tour de France™ (@LeTour) July 20, 2023
🏆 Rankings and jerseys after stage 18

🏆 Classements et maillots distinctifs après l'étape 18#TDF2023 pic.twitter.com/ITYeoqVWBL

— Tour de France™ (@LeTour) July 20, 2023